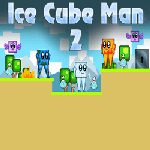 Ice Cube Man 2
Jouer sur smartphone ou tablette
Publié le 24 Septembre 2023 - Joué 150 fois.
Ice Cube Man 2 is a 2D cute little platformer where you have to collect all of the bags containing ice cubes while avoiding the fire cubes, Earth cubes, flying thunder cubes, and their bullets, giant blades, fire and reach the Exit door in order to go to the next level. There are 8 levels to play and the difficulty increases as you proceed.

This is the second installment of the original "Ice Cube Man" series.

Controls:
Use "WASD" or "Arrow" keys for the player's movement.
Use "W" or "Up" arrow key twice for double jump.
J'aime ou J'aime Pas
---
Soyez-le premier à poster un commentaire
---
Copyright © 2006-2023 DIVERTISSEZ-VOUS.com. Tous droits réservés.