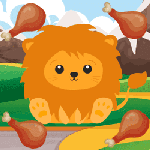 Hungry Lion
Jouer sur smartphone ou tablette
Publié le 24 Février 2023 - Joué 31 fois.
The Hungry Lion online platformer is an endless runner game in which you play as a lion who is very hungry. The goal of the game is to eat as much food as possible while avoiding obstacles.
The Hungry Lion Online Platformer Endless Runner game is a fast paced, exciting game that will keep you on your toes. You will need to use your quick reflexes and agility to avoid the various obstacles in your way and make it to the end of the level.
J'aime ou J'aime Pas
---
Soyez-le premier à poster un commentaire
---
Copyright © 2006-2023 DIVERTISSEZ-VOUS.com. Tous droits réservés.